Résumé Writing
Résumé Writing Tips
If you are currently searching for a new job, regardless of whether or not it will be your first job or a replacement, there are certain tactics that you must adhere to in order to be as successful as possible. Landing the perfect job is fiercely competitive these days, so you must prove that you are beyond a doubt, the absolute best candidate. Even jobs at fast food restaurants are becoming more competitive, and many require extensive personality tests that must be passed before you will be considered for an interview.
One way to ensure that you will at least get called for an interview is to create a professional resume. It's not necessary to contact an expensive resume writing agency, because with the right professional resume template, you can create a dynamite one yourself. The purpose of a resume is to highlight your experience and abilities. Most employers would prefer to hire someone with a certain amount education and/or experience for a position, and if you have what the employer is seeking, then your resume gives you the opportunity to inform any perspective employers of what you have to offer.
If you are applying for a professional position, then of course you will need to create an executive resume. An executive resume differs from a traditional resume, as it more thoroughly highlights professional accomplishments and duties. If you are applying for a high-level job within a corporation, then you definitely want to present your best executive resume. You don't want to create just an average resume if you're looking to make yourself standout among the numerous other applicants who are likely applying for the same position.
So, if you're trying to get the job of your dreams, then you obviously have to do whatever you can to sell yourself. Part of selling yourself to potential employers is presenting one of the best resumes they have ever seen. Of course there is never a guarantee that you will get a job, but the better you work at presenting yourself and highlighting your positive attributes, the more of a chance you will have to at least be called for an interview. An interview will give you even more of a chance to sell yourself, but just remember that your interviewer is a person just like you are, and remain calm. If you're a bundle of nerves, then you won't be able to think on your toes, an important thing to be able to handle during an interview. Just be yourself and you're very likely to make a lasting impression and hopefully get hired.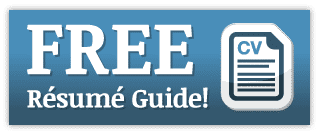 Fill Out the Easy Web Form Below for Your Free Résumé Writing Guide

We value your privacy and would never spam you.