Résumé Keywords
Why Your Résumé Should be Searchable
Finding a job can be hard, especially in today's competitive market. While you know you have the skills to be the best candidate for the job, presentation is everything. The best résumés will be the ones that get noticed, even if you have superior skills compared to those applicants. Your résumé gets lost among hundreds of other applicants.
How can you make yourself stand out? Consider using a professional résumé template to be the one that catches the eye of the recruiter so you can land that dream job.
Using a résumé writing service will give you a polished, professional appearance of your résumé. Appearances matter, and you need to make yours visually stand out. It's very hard to take an objective look at yourself, so having an outside look on your education and career will help you know what to include, what to leave out, and what to emphasize.
People have a habit of undervaluing their work. A résumé writer will give you the credit you deserve for your accomplishments and create outcome-based executive resume. Résumé writers know how to demonstrate your past and future value to a company.
Résumé writers spend every day highlighting the careers and education of professionals like you. The average person writes a résumé every few years, or sometimes even less frequently. You don't write a résumé often enough to be great at it. You don't have the skill and knowledge to create best job search materials, because you are busy working on your career. Professional resume writers write resumes as their career.
Your clients trust you with your professional services, so you should trust a résumé writing professional with their services. They know what recruiters and hiring managers are looking for. This gives you an insider's advantage when it comes to landing that perfect job.
People sometimes take weeks or even months making a perfect résumé. Styles change, and your resume that looked great 10 years ago is outdated now. Professional résumé writers are up to date on all the trends. They have certifications, professional affiliations, and ongoing training in the industry.
If you think you can't afford a professional résumé writing service, think again; you are actually saving money by using this service. You will have a great product quickly, and your enhanced résumé will land you a job faster. It costs money to search for a job, in addition to lost income while out of work.
You are more likely to find professionally and financially rewarding jobs from professional résumés. If you compare the cost of a prolonged job search to the cost of job search documents to help expedite the process, you will find that getting back to work faster is a smart financial decision.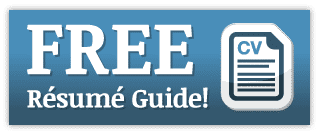 Fill Out the Easy Web Form Below for Your Free Résumé Writing Guide

We value your privacy and would never spam you.